Tempe resident gets creative in mortgage crisis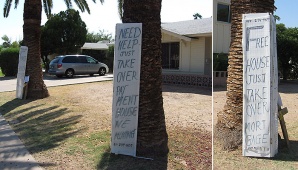 Sept. 29, 2008 01:44 PM

Tempe resident Char Aramdee has taken a new approach to the mortgage crisis. He's placed five-foot-tall handwritten signs in his yard that read "free house just take over mortgage," and "need help just take over payment."
Cars slow down as they pass the house on Ellis Drive just east of Mill Avenue. Aramdee said he has had people stopping by and calling nearly every day, but no one has taken his offer yet.
While signs like these may cause a stir in some neighborhoods, Aramdee's neighbors don't seem to mind.
"I was just amused by his inventiveness," next-door neighbor Dorothy Wells said. "A lot of people have homes they can't sell right now."
Across the street, neighbor Jeffery Miller said the signs don't bother him either.
"It's a sign that they need some help," said Miller. "I know it's hard right now."
Aramdee used to own Char's Thai Restaurant on University Drive and Rural Road, but said he had to sell it in February because the lease got too high. Now he and his wife are hoping to get rid of their mortgage so they can move into an apartment with their two children, ages 6 and 8.
---